LOVE GAMES

SEX MACHINEGUNS

Released
October 19th 2014
Recorded
Okinawa
Length
36:57
Label
Kanameishi Records
Producer
Kagenobu Kuwahata
Tracklist
Edit
1. Overture (1:38)
2. GS BOY (5:12)
3. ダッチの奥さん (3:56)
4. 未練FIRE!(Album ver.) (4:17)
5. TEXAS FIVE (0:42)
6. 良かったね。(4:05)
7. エグイ食い込み (4:44)
8. いつもの喫茶店 (4:17)
9. マーメイド地獄 (4:00)
10. プラズマS (4:06)
Overview
Edit
Their 10th album LOVE GAMES was their first album with new drummer Leon. The album contains great tracks such as "GS BOY", 未練FIRE!, エグイ食い込み and マーメイド地獄.
Versions
Edit
October 19th, 2014 - Kanameishi Records - NQKS-1006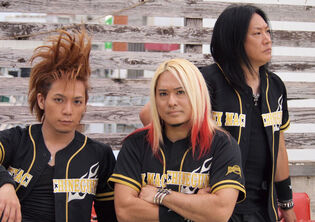 Ad blocker interference detected!
Wikia is a free-to-use site that makes money from advertising. We have a modified experience for viewers using ad blockers

Wikia is not accessible if you've made further modifications. Remove the custom ad blocker rule(s) and the page will load as expected.