Barbe-Q★マイケル
TOCT-24546

SEX MACHINEGUNS

Released
March 7th 2001
Recorded
Tokyo, Lake Yamanaka
Length
54:30
Label
TOSHIBA EMI
Producer
Akira Sasajima
Tracklist
Edit
1. S.H.R. ~セクシーヒーローレヴォリューション~ (3:43)
2. みどりのおばちゃん (5:11)
3. 狼とキリギリス (3:38)
4. パンチ DE love Attack (7:30)
5. Death (2:52)
6. 愛こそすべて (4:17)
7. フェロモン (5:18)
8. とうちゃん (3:54)
9. サラリーマン嵐 (3:22)
10. 食べたいなめたい危険地帯 (3:44)
11. Fire (7:04)
12. 全国大会 (3:47)
Overview
Edit
Their third album "Barbe-Q Michael" was their first album with new drummer C.J Himawari and their last before Rhythm Guitarist SUSSY left for over 10 years…The album from recorded from December 2000 to January 2001. Anchang improved his vocal style for the album along with a band-wide musical makeover… with the technical skill increase they released one of the most hardcore fan-beloved albums of their career with hits like "S.H.R セクシーヒーローレヴォリューション, 愛こそすべて、食べたいなめたい危険地帯、FIRE and とうちゃん. The album peaked at number 7 on the Japanese Charts. 
Versions
Edit
March 7th, 2001 - TOSHIBA EMI - TOCT-24546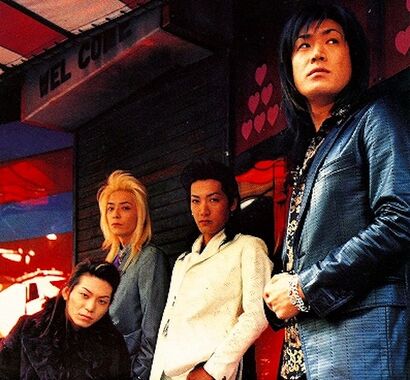 Ad blocker interference detected!
Wikia is a free-to-use site that makes money from advertising. We have a modified experience for viewers using ad blockers

Wikia is not accessible if you've made further modifications. Remove the custom ad blocker rule(s) and the page will load as expected.